Idyl Tea is an Edmonton-based trio that was active between 1984 and 1995 (the band reunited in 2009). The group's mix of humour, chutzpah and a sound that combined guitar-based post-punk with folk jangle and catchy power pop  melodies won the band a loyal following in Canada and garnered press coverage from The Globe and Mail, Rock Express, Toronto's NOW Magazine and MuchMusic television.
Idyl Tea formed in Edmonton, Alberta during the summer of 1984 from the ashes of R&B/Mod cover-band "Route 66". The group consists of Hank Engel on bass guitar and vocals, Everett LaRoi on guitar and vocals and Craig Metcalfe on drums.
Idyl Tea started out performing at some of the Edmonton's seminal punk and cabaret venues including Spartan's Men's Hall,  The Ambassor Hotel, and The Bronx, alongside other Edmonton bands such as Moe Berg's "facecrime", Jr. Gone Wild and punk legends SNFU. Eden Munro and Mike Siek's 2015 NTT Films "Dead Venues"  documents this time period and includes live footage of Idyl Tea performing at the Ambassador Hotel in March 1987 and The Bronx in 1990.
Idyl Tea's first official release came in 1985 with a song named "Awfully Nice Eyes".  Although songwriter Everett LaRoi says he "wrote it as a joke in 5 minutes" and did not initially consider it to be worthy of recording in the band, the song quickly became a fan favourite at live shows. The group ended up recording and releasing it as a cassette single in 1985. The promotional poster for the release states emphatically "Don't You Dare Play This Song!" In spite of this, the song leapt onto the college radio charts nationwide on "cart"  and also began to receive airplay from Brent Bambury on the late night CBC music program "Brave New Waves".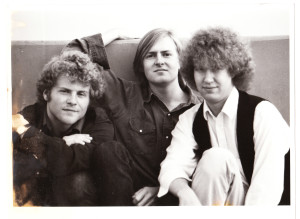 Encouraged by radio airplay and a growing following on the western Canadian live scene, the group returned to the studio with producer Dean McElwain (Ian Tyson) and recorded the group's 5-song vinyl debut "How I See This Table" which was released independently in 1986 (the EP was subsequently picked up for distribution by Midnight Records in New York City). The band began touring Canada from Victoria to Halifax, including a 5 city eastern canadian tour with Chalk Circle and shows with Ian Blurton's band Change Of Heart.
Canada's premiere music television channel MuchMusic featured the group, interviewing them and filming them live in Toronto at Lee's Palace. Polygram records phoned and offered to bring in a name producer to rework the songs; an offer the group declined.
The group returned to the studio again in 1988 with co-producer Dean McElwain and cut an 11 song self-titled album that was intended for independent release. As the cd/cassette was being manufactured, someone at the manufacturing plant made some calls to label reps in Toronto about the group. The group subsequently was approached by an A&R rep and later signed a recording contract in 1990 with Attic/A&M Records, who re-released the group's independent full length cd.

The major label launch was accompanied by a Phil Kates (Sarah McLachlan, Blue Rodeo) directed video for "Oh Brother".  Around this time the group decided to add second guitarist Ian Martin to the line up for live shows. Idyl Tea performed "unplugged" on MuchMusic, embarked on several record label financed tours including a 10-city Canadian tour with Spirit Of The West, a mini-tour with The Leslie Spit Treeo and a show in Kitchener with newly formed opening act The Watchmen.
In spite of the group's success and improving prospects, record sales were not significant by major label standards and the group was let go from their contract in 1992 amongst a label roster shuffle.
Idyl Tea continued on as an independent act and, in 1994, they released a 5-song maxi-single (with accompanying video), for the song "Funny Feelin' ". The video entered medium rotation on MuchMusic and the group supported the release with a series of live shows including dates with Blue Rodeo and The Watchmen. "Funny Feelin" was intended to be a precursor to a 2nd full-length album for Idyl Tea but, midway through the recording process, the band decided to take a hiatus.
During the year 2000 both Engel and LaRoi released solo albums: Engel, who had relocated to Sudbury, Ontario released "Barrel of Fun"  which featured a more hillbilly/rockabilly sound; LaRoi formed a crack studio band and self produced a self-titled 11-song cd that had more of an alt-country/singer-songwriter feel. Engel and LaRoi shared the stage for a double bill at The Townhouse Tavern in Sudbury when The Everett LaRoi Band toured Canada in 2000.
In 2005, LaRoi joined a new Edmonton based group named "ManRayGun". Manraygun was originally formed as a trio comprising Dennis Lenarduzzi, Steve Lenarduzzi and Everett LaRoi. While the first year centered around songwriting sessions, sonic explorations and open stages, it was with the addition of Tom Murray, ex of Old Reliable and Pal Joey, and Silas Grenis of punk legends the James T. Kirks to the backline that the band solidified it's sound. Calgary's Beatroute Magazine described that ultimate mash-up as "Rich with pathos-laden guitars and a nostalgic expression of roots music". The group has 4 commercial releases: "Twilightspeak EP" (2007), "Misfortune Telling" (2008), "Everything Is Temporary" (2009) and "Outside Thoughts" (2014).
In 2009, the original 3 members of Idyl Tea got together in Edmonton for a weekend to "digitize their old analog tapes and drink beer" but alas, as it turned out, many of the old tapes had deteriorated and were unplayable. So instead the band decided to get together in a practice room and play a few songs. After tiring of playing through a few of the old tunes, they started working on some new songs by songwriters Engel and LaRoi.
Encouraged by this experience, the group made plans to reunite in a couple months and make some new recordings. Over the next 2 years the group ended up recording 14 new songs which resulted in a new double cd which covered the 14 newer offerings from songwriters LaRoi and Engel (Song That's Not Finished Yet) and 21 rare and unreleased songs (The Unthology). The release was supported with sold out live shows in Edmonton, Calgary and Victoria.
In 2012, the group played an additional live show in Edmonton and reissued their breakthrough 1986 release "How I See This Table"  (complete with several bonus tracks) as a cd/download.